Favorite Links
Favorite Links
The following is a list useful links that I have compiled. If you wish to be added to this list, please send me an e-mail.
Favorite Sites
Run by the ever energetic Sandra Mastroianni,Cactus Gallery is home to some of the best and most affordable art in Los Angeles.Most shows run from 4 - 6 weeks so there is an never ending array of new and exciting art.There is also beautiful hand made jewelry and leather goods from Argentina along with a dazzling aray of hand crafted and one of a kind gifts
Check out Luz's amazing mosaic art!
Mosaic virtuosity by Dawn.
Mosaic masterpices reflecting to rugged beauty of the high desert from small wall hangings to large murals by Pepper Wagner and Ron Evers.
Here is a small collection of Stephen's artistry for sale.
So much mosaic to see...... Wow!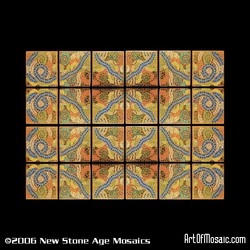 Mosaic Suppliers,Schools and Projects
OK,so we think Kathy Scherr rocks but she also has the best mosaicy type stuff for sale as well!
Old school, we're talking Byzantine folks, mosaic supplies featuring Italian Smalti as well as hammers and hardies
Proof that there are still some decent people in this world!
LEARN TO MOSAIC TODAY!