Petraits
Hi Mary – the petrait rocked! I so luved it! You captured Enzo's and Bella's likeness perfectly. And the background multiple mosaic colors are my favorite. Thank you, thank you, Lisa
Mary,
I can not tell you how thrilled I was with the boy's mosaic. I had a
picture in mind and you far exceeded it by 100%. The likeness is
excellent. I keep checking on Trevor and then looking at the mosaic.
Not being an artist, I have not idea how you did such a beautiful job. I would love to have all of my kitties done
Chrystal Coan
The mosiacs were LOVED by all. My sister-n-law was so thrilled she was crying. She couldn't get over how well you captured Jack and his eyes.Dawnie Jackson
PETRAITS BY MARY

A 6" x 6" custom portrait of your pet, framed and suitable for hanging or a 12" x 12" stepping stone. Just send me a picture and I will make a glass mosaic portrait from it. It is yours for only $150.00
plus $12.00 S&H for the wall hanging
or $20.00 shipping and handling stepping stone. Contact me for special custom sizes.
Paypal accepted or
send a check or money order to:
New Stone Age Mosaic Studios
1754 Colorado Blvd
Eagle Rock, CA 90041

Or Call: (323) 547 –2021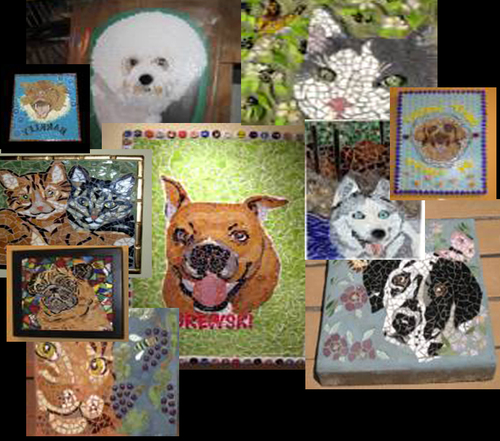 PLEASE CONTACT ME FOR PRICING ON CUSTOM SIZES More photos in Special projects section....